currently, hydrology is the most important task is to estimate the regime of extreme hydrological events, primarily floods. Mastery of the methodological apparatus of modern directions and technologies, constituting an integral part of modern hydrology, promotes the use of hydrological models in all river basins, including the unexplored basins. And one important task is the forecast of future changes in the hydrological regime of the expected climate changes and landscapes. Thus, the main activities MHPHR are as follows: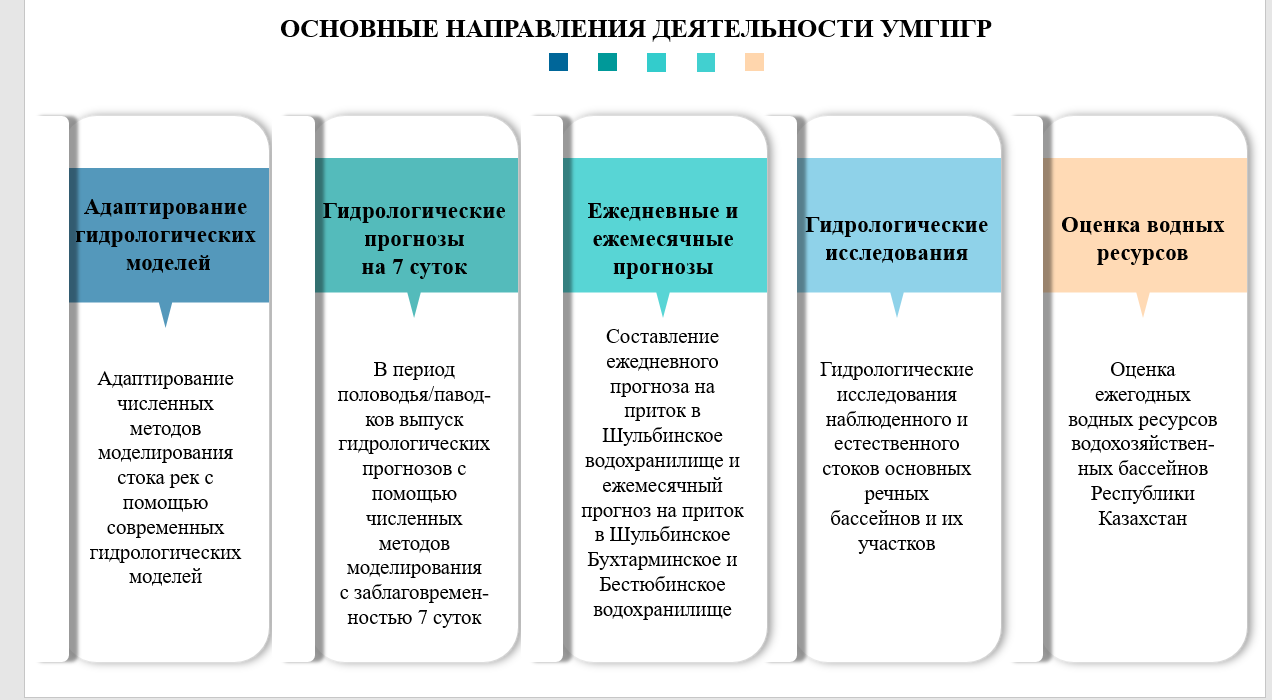 MHPHR is adapting hydrologic models for rivers in Kazakhstan. In 2019 for 53 of the mountain rivers of Kazakhstan have been adapted the HBV model, for the 5 lowland rivers – the model SWIM.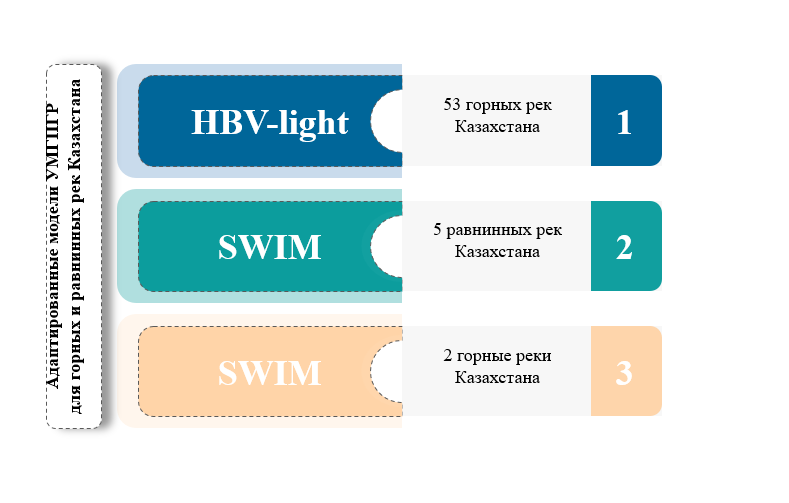 the Hydrological forecasts are produced using the above-mentioned hydrological models, which in turn are based on the quality of calibration models based on SYNOPTIC forecasts of meteorological parameters provided by UKPP and UDP gmts.
the Predictability of numerical hydrological forecasts for mountain rivers of Kazakhstan on the model HBV-light in average for the whole region ranges from 75 to 95 %, and models of SWIM 79 %.
And one of the main activities MHPHR is the estimation of the annual water resources of water basins of the Republic of Kazakhstan. since 2014, RSE "Kazhydromet" in the framework of the budget programs "Maintaining hydro-meteorological monitoring" annually prepares the stock table. The urgency of the task stems from the fact that water resources of the Republic is not large and is distributed very unevenly within its territory. Therefore, in recent years in Kazakhstan more attention is paid to improving the management of water resources and harmonize water policies with neighboring countries. A lot of interest in this context is an operational estimate of the total, local and transit resources of river waters.
the Result of the assessment of water resources are "Stock table"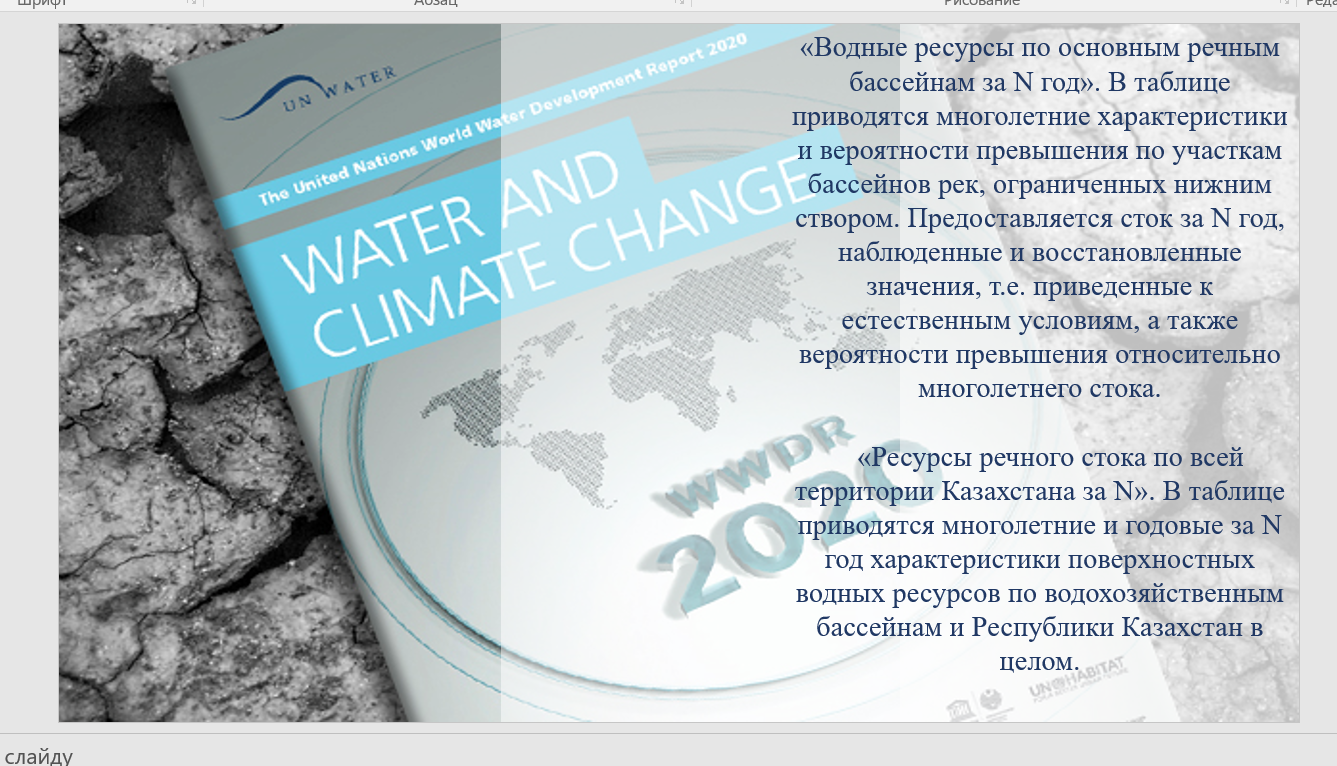 the values of the characteristics of water resources of water basins (vkhb) are calculated by the techniques developed in RSE "Kazhydromet" in the period from 2002 to 2009. Designed and prepared the Stock tables from a research note provided to the Committee on water resources of the Ministry of ecology, Geology and natural resources of Kazakhstan.
the following is a brief description of the hydrological models used for their studies.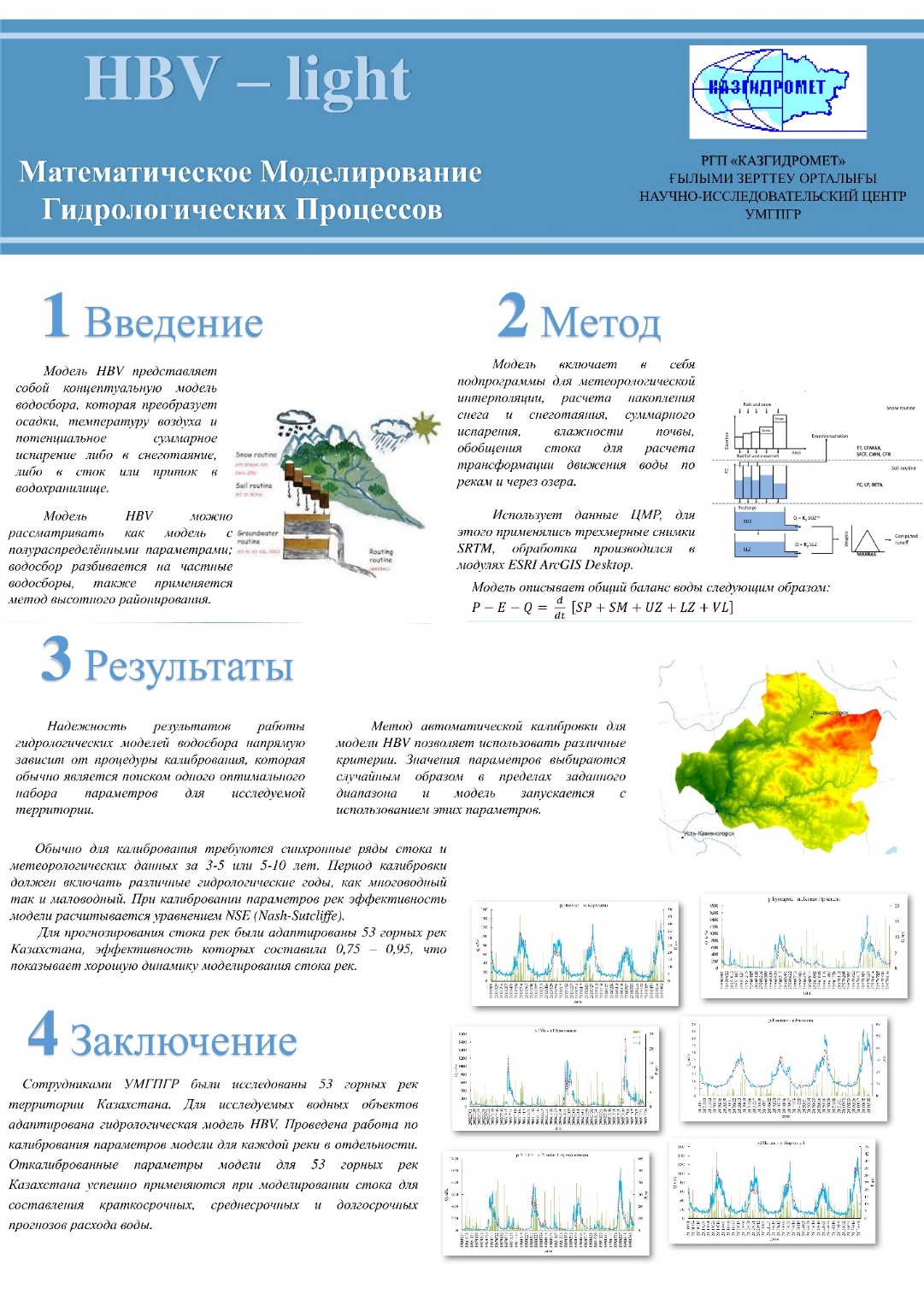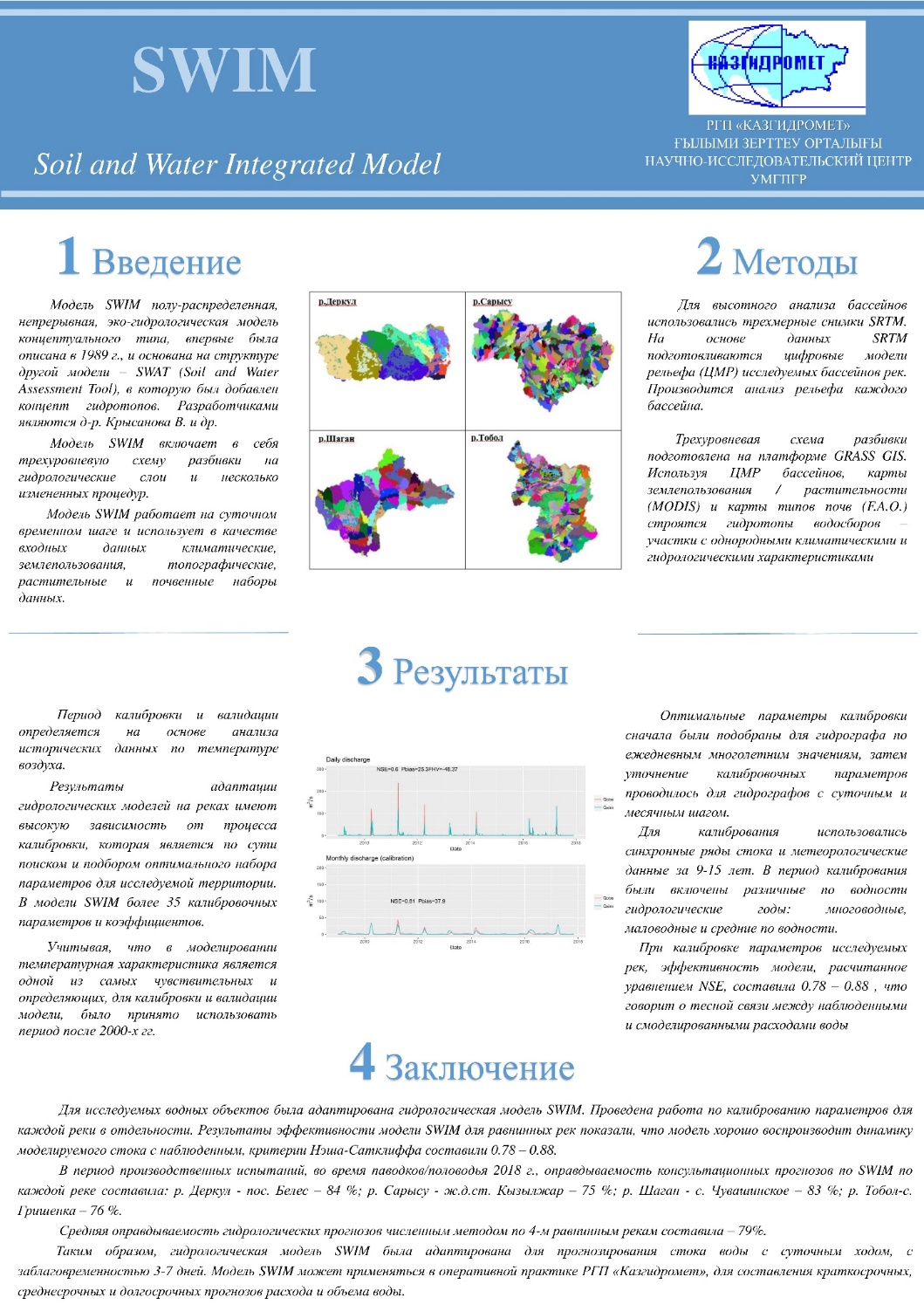 Description short-term prediction of lateral inow in shulbinsky reservoir illustrated in the following poster report.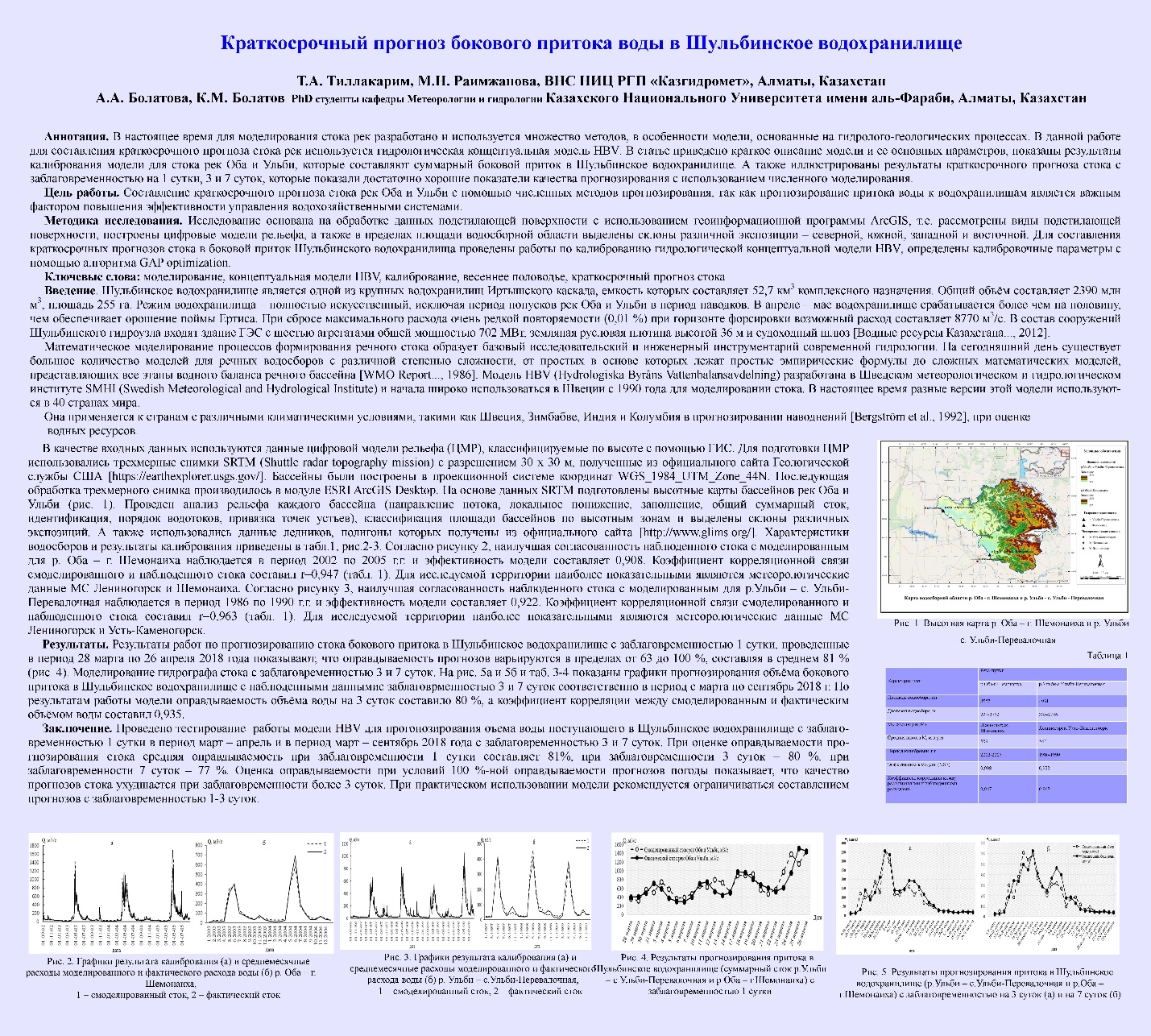 Personnel potential MHPHR
management Staff have many years experience of interdisciplinary research on the hydrological research and modelling of hydrological processes. Professionals trained in Geophysical Observatory (Potsdam, Germany), training courses and workshops on hydrological modelling CAWa, CAREC held refresher courses on hydrology at IIT (Roorkee, India).
the Department is working professionals with master's degrees, one specialist is trained in doctoral studies of KazNU. al-Farabi (Almaty, Kazakhstan).